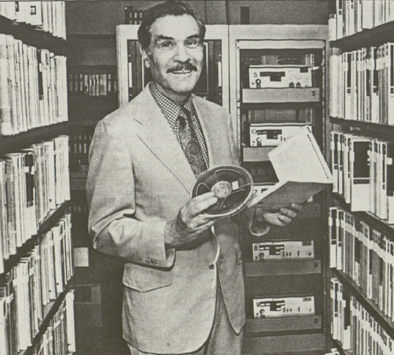 About Dr. Maurice Crane
Dr. Maurice A. Crane became Head of the new G. Robert Vincent Voice Library in 1974, after Vincent's retirement.
Crane was born in Atlantic City, New Jersey in 1926. He received an M.A. in English Literature from the University of Chicago and his Ph.D. from the University of Illinois. He came to Michigan State University in 1953 and taught Humanities for many years.
As Head of the Vincent Voice Library, Crane stressed both building the collection and opening it to the public for research.
Crane recorded incessantly, adding voices from all subject areas. Under his direction, the collection was strengthened in every discipline and most notably in the speeches of U.S. Presidents, labor history, popular culture, the history of Michigan State University and intellectual and political history. By the time of his retirement in 2000, he had grown the collection twenty-fold.
One of Dr. Crane's first actions upon taking over the collection was to open the card catalog to the public for bibliographic access. The collection also became a lending library as copies of items without copyright restrictions were loaned upon request.
As a reference librarian, Crane became an information source for scholars, broadcasters and radio and television producers from around the world. He was called upon for help in using the collection, but also for general advice about history, popular culture and media production.
In 1984, he received a Grammy nomination for his cassette volume on the speeches of FDR and in 1979 was given the Distinguished Faculty Award, Michigan State University's highest faculty honor.
Dr. Crane continued to live in East Lansing until his death on June 1st, 2014.